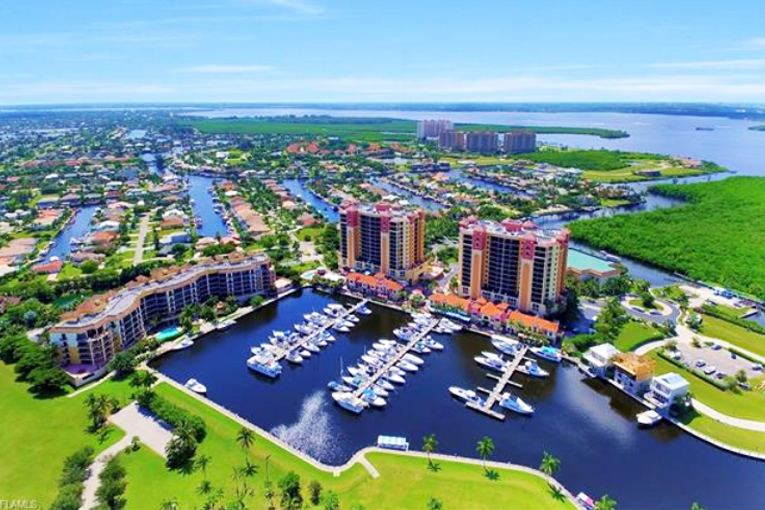 View All Cape Harbour Listings
Amenities:

Marina

Gulf Access

Shops

Restaurants
If you're a boater and a home buyer interested in Cape Coral, Cape Harbour is THE BEST CHOICE. As the premiere yachting community in Cape Coral, Cape Harbour offers an unrivaled quality-of-life. Located at the southern recesses of Chiquita Boulevard, residential options in this waterfront community include single-family homes, condos, coach homes and villas known as the "Funky Fish Houses." Home prices can typically range in the $300s for condominiums, yet homes in the area can exceed more than $1million.
Cape Harbour Amenities
As Cape Harbour is located along the shores of the Caloosahatchee River, residents enjoy convenient access to The Gulf of Mexico. The marina offers some seventy slips for boat owners, as well as a ship's store with all the necessary provisions one can want. Residents also enjoy conevenient access to recreational amenities. There's tennis courts, swimming pools and even a state-of-the-art fitness center exclusively available to residents.
The community is further complemented with its very own commercial center; a village comprised by a mix of upscale retail stores and restaurants.
Beyond the shopping and dining, residents have unceasing access to entertainment. Venues such as Rum Runners or the outdoor bar known as Fathom's routinely feature live music. Anticipate popular annual events in Cinco de Mayo or Mardi Gras celebrations. Residents have ample opportunity to come together for fun and fellowship.
And more awaits in the near vicinity. Gorgeous Gulf beaches, golf courses and more in shopping, dining and family-friendly entertainment can be found just a short drive from the community.
For the sheer quality of the homes, the amenities, location and overall charm of this waterfront community, Cape Harbour remains among the best of options for home buyers in Cape Coral. Learn more about current properties for sale in the listings depicted below.