Enticing Option In New Income Producing Real Estate Property Near Downtown Naples
Posted: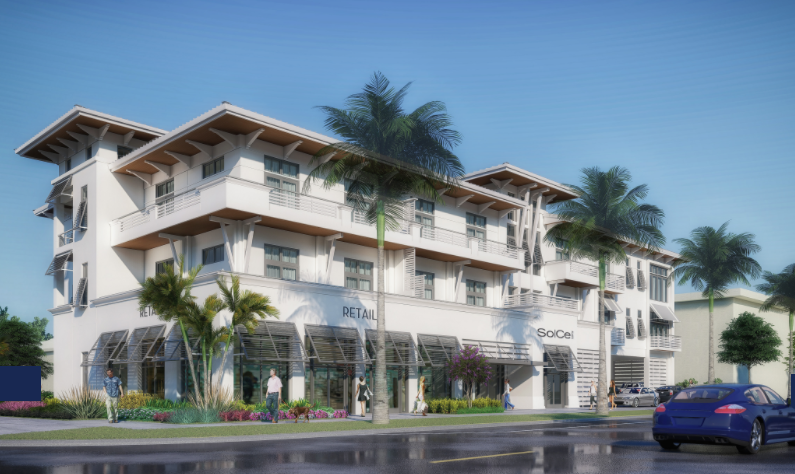 Soce Flats, a new boutique three-story mixed-use development in Olde Naples not only offer excellent potential for investors seeking new income producing property near downtown Naples, but also offers advantages for buyers who desire an upscale urban-chic lifestyle where shopping dining, entertainment and more awaits only a short stroll from your private residence. As a mixed commercial/residential development Soce Flats is comprised by a ground level of retail operations that encompass more than 4,000 square-feet while 18 luxury residences remain on the upper floors. As a smart building, residents will have 24/7 access to building services via smart phone application. The residences have been approved for long term rentals as well as short term (by the week or by the night). Soce Flats will NOT be your typical hotel/motel development with cookie-cuter design, the award-winning interior design firm of Clive Daniel has been tasked with creating a unique aesthetic allure for each distinct residence. Buyers can
choose between 1 bedroom or a 1 bedroom + study as well as 2 bedroom/2 bathroom floor plans that respectively accommodate from more than 600 square-feet to more than 1,200 square-feet of living area at prices ranging from the $500's and upwards. In addition to being pet-friendly, Soce Flats garners appeal from its positioning at 101 8th street South. Residents here will revel in the remarkable opportunity to walk to the beach or the marvelous mix of  restaurants, boutique fashion stores and art galleries located along Third Street or world famous Fifth Avenue South.
Couples can enjoy an intimate evening on-the-town by fine dining alfresco style along Fifth Avenue South before taking in a staged show at the Sugden Community Theatre. There's also concerts or arts & craft fairs frequently hosted at nearby Cambier Park. Better yet, you can enjoy the greatest show in town; sunset from the iconic Naples City Pier, (each one is sensational and no two are completely the same). At Soce Flats one will never be left wanting when it comes to things-to-do and see. Fishing, boating and the finest fairways in golf also await only a short drive from this new development that is poised to not only become a rewarding residential retreat, but also rewarding as a new income producing property near downtown Naples. One of the most ideal and idyllic of  locations in all of Southwest Florida, just imagine the droves of visitors and annual snowbirds who will anxiously await their opportunity to reserve their week's stay here within the very heart of paradise.
Though Soce Flats is still under development and anticipated to be completed by the end of 2020, there is still yet time to take advantage of pre construction incentives.
For more information on Soce Flats or other new income producing real estate property, near downtown Naples, contact Southwest Florida's most knowledgeable Realtor Jack Mancini by submitting the form below:
Other Real Estate For Sale In Olde Naples