Sanibel Lighthouse
Posted: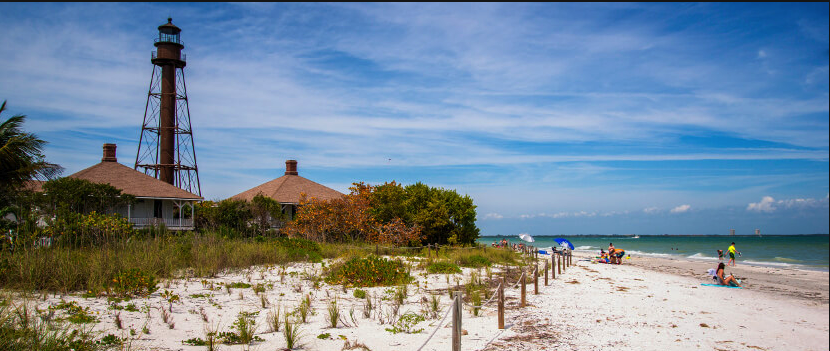 Sanibel Lighthouse
The Sanibel Lighthouse is the very first such lighthouse constructed within the Gulf coast of Florida (north of Key West). Located on the eastern tip of the island, the Sanibel Lighthouse overlook the entrance to San Carlos Bay.  Since 1884, the lighthouse has stood watch at this periphery of the 12-mile-long island. It took 50 years to obtain the $50,000 needed to construct the lighthouse. It was thought that it would bring travelers and traders to the Southwest Florida coast.  Completed, it stands 98 feet and has a 127 step spiral stair case.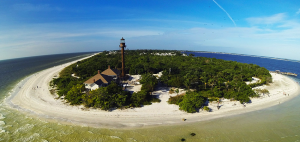 It was built on August 20, 1884 and was maned until 1949 when it became automated.  In 1972, the Coast Guard resolved to discontinue running the Sanibel lighthouse, however mariners and people that lived on the island had opposing ideas. They convinced the Coastguard not to move forward with that idea. In 1982, people who lived on Sanibel were able to live in the development by the lighthouse for free, in exchange for helping to maintain the area around it. After being owned by the Coast Guard, the lighthouse was finally given to the City of Sanibel in 2004. After years of fund raising the $269,563 needed, the light house was finally restored in 2013.
Although you cannot climb the light house you can adventure the beach and 670 acres of preserve that it stands on. Some of the best shelling on Sanibel can be found at the lighthouse as it is the southern end of the channel. The best shelling can be after a rainstorm or at low tide. The original lens used in the Sanibel Lighthouse is among the array of fascinating artifacts and architecture displayed at Sanibel Historical Museum at Village .
Sanibel Island is nationally acclaimed for being one of America's best vacation destinations and its beaches are heralded among the most beautiful IN THE WORLD. For those who enjoy shelling or simply strolling along the shores, Lighthouse Beach on Sanibel is fully worth the visit.
And beyond the historic significance and appeal of the Sanibel lighthouse, we're please to spotlight on some great properties for sale in Sanibel too. While the listings appear below, should you have additional questions about homes on Sanibel, simply submit the contact form below:
Current Homes for Sale on Sanibel Island